Not surprisingly, we love sustainability. We believe in supplying high quality, ethically sourced, gorgeous furniture that's going to go the distance. To us, part of being sustainable isn't just using reclaimed timbers, but protecting and supporting every aspect of the supply chain. Right from the tree's that supply our gorgeous furniture.
We support many organisations throughout the supply chain that attempt at minimising the effect of our impact on the earth. Trees for Trees is an non-profit organisation we support that empowers communities to take part in re-forestation initiatives but also promotes education about the impact of logging in Indonesia, where a large amount of our teak furniture is sourced.
Perum Perhutani is among the bodies we support that actually take action against illegal logging of trees in Indonesia and are certified by the Rainforest Alliance for Sustainable Forest Management. They actively prevent illegal logging and certify the timber used is from sustainable sources.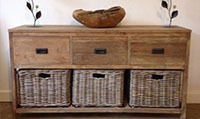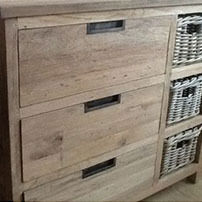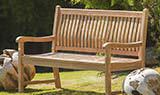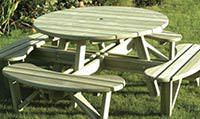 Where possible we use Reclamation of timber. This is an especially effective method of sustainability that actually allows us to recycle previously used wood into new furniture. The reclaimed wood contributes to our rustic style but more so supports Indonesian traditions and makes otherwise defunct timber useful again. Reclaimed timber is more seasoned and as a result provides harder wearing furniture than that of new timber. Every piece of our furniture undertakes the same stringent testing that you would expect from new timber sources to ensure quality is of the highest standard.,
We are proud to say that at every stage of supply, manufacturing and selling, we streamline every possible process so that the goods you receive are sustainable. Supporting sustainability ensures that the world we see today stays the way it should be and leaves as little impact as possible, continued de-forestation has already caused devastating effects on the earth but also the communities in the areas affected. Choosing sustainably sourced furniture shows a commitment to being eco-friendly.
Want to know more about how we are trying to become more sustainable in every aspect of our business? Read 'Our Story' here, then head over to our blog where we are constantly updating the site with news of our business. Want to support us in our campaign to become more eco-friendly? Then please feel free to email us at [email protected]. We would love to hear from you.