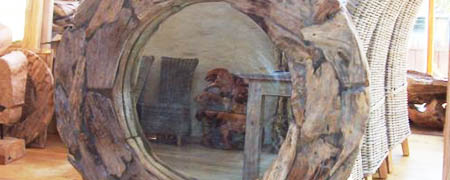 Sustainable Driftwood Mirrors
Beautiful sustainable driftwood effect mirrors for people who really care about the environment. The material used for manufacturing these mirrors has been sourced from old roots which have been excavated by hand (usually 6/8 labourers per tree) thereby clearing ground enabling fresh plantation. Without the extraction of these huge teak roots, the trees of which were felled mostly over 30 years ago, the land would be abandoned, rendering it expensive and impractical for further plantation. These mirrors look like - well - nothing else - totally unique, but not only that, the environmental and economic implications of this product are compelling. Families work together to excavate these roots creating jobs in outlying villages but also creating fresh/new plantation areas and of course beautiful statements of sustainability.
Our three styles of driftwood mirror are, of course, our teak root, and our teak root piece but also we have a small range of reclaimed teak mirrors. It is possible, if you wish, to order a bespoke sized mirror and this can be done by emailing or phoning to give exact requirements.