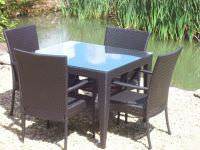 Outdoor Wicker Furniture - Dining Sets
Our outdoor wicker dining sets and bistro chairs are ideal for private, commercial or trade use. Please browse through and if you need any advice, contact 01726 884123. Our fibre products are manufactured according to ISO 9001-2000 quality assurance standards and made from a non-toxic material that is 100% recyclable. Our outdoor wicker resin is the green solution for all outdoor all weather applications, flame retardant too. Our all weather outdoor wicker furniture can be left out all year, is UV tolerant, maintenance free and is simply a beautiful yet a comfortable addition to any outdoor or indoor entertaining space. Outdoor wicker furniture really is the latest trend for outdoor dining. Its advantages are huge in that it is hygenic, maintenance free, UV tolerant and simply looks just great.
There are no products matching the selection.